We all look for the best deals when it comes time to buy merchandise or what not.
Some of us can't wait to get coupons in the mail and just want to get the best deals right there and then in real time.
I came across  a platform  that does just that, no more waiting for coupons in the mail or an email with your discount code, you get the best deals right on your smartphone.
Welcome to my Dealspotr Review!
I will be letting you know how it works and if it is really legit.
Dealspotr Review
---
Name: Dealspotr
Website: www.dealspotr.com
Price: Free
Overall Rank: 82/100
What Is It All About?
---
Dealspotr is a social website where people get access to a wide range of deals and coupons with the opportunity to earn points through the sharing of deals in return for gift cards.
The site is said to be somewhat of a social media network but with the sole objective of being a source of deals and coupons.
It is compared to Facebook simply because it works like your Facebook newsfeed, which allows you to subscribe to any particular brands, topics, and people of your choice.
With this, you are able to collect new and updated feed of deals specifically relevant to you.
You are guaranteed to get new and real codes that truly work for your deals and coupons here at Dealspotr because there is regular updating and editing.
Unlike most coupon sites, Dealspotr does not allow posting of duplicated codes.
Their mission is to save shoppers money while you (the couponer) are also earning money.
Therefore, this is an opportunity for both the shoppers and the couponers to gain without anyone losing in any way whatsoever.
In addition, they also promise to ensure that both parties are saving money (Shoppers and couponers) by giving compensations in a form of points (for example, Karma) to those who participate in the community via their comments, sharing and posting of deals and coupons on the Dealspotr website.
Getting Started
---
One of the most exciting things about this platform is the ease and freedom from any membership fee to join.
It is totally Free to join and there is no hidden fee whatsoever.
There are two options for signing up, either with your email address or social network accounts such as Facebook. Though this does not suffice for a username and password, you still need to supply them for your registration.
As soon as you completed the process above and login to your account, your next line of action is to opt for your areas of interest.
There are different categories of interest to choose from which include but not limited to home, grocery & drugstore, electronics & technology, fashion, restaurants, travel, cosmetics, gifts & gift ideas, fitness & sports, food & cooking, etc.
Your completion of the step above will enable the activation of the deals and discounts on your live feed based on your selected areas of interest, and from there on, you can start working and you will be getting deals updated on a regular basis and in a real time.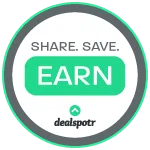 How To Earn Points
---
Dealspotr gives their members the opportunity to make money from the points they earn which can be redeemed for gift cards as well as other incentives once such points reach the set threshold.
In this way, members help in promoting the company by carrying out a number of things, but basically there are two ways to earning points, and they are through REFERRALS and POSTING DEALS.
The activities leading to earning a point include posting new deals, validating the deals posted by others, spotting (looking out for evergreen) deals, ensuring the day-by-day completion of your checklist, and referring other people to the website.
How To Add A Deal Or Coupon
---
Adding a deal or coupon to Dealspotr involves the following steps and taking the following information into cognizance:
Go to the official website of Dealspotr and hit the +Add Deal Button. This can be located on the page of the website.
Select your preferred deals from the categories – This depends on what you intend to be sharing with others.
Once you are through with this, then you move and complete the steps listed below to get your deals added.
Step 1: About The Product – Provide the required information about the product on the "About The Product" section of the website. This includes information such as the store name, the name of the manufacturer of the product, the name and key specifications of the product, and a link to the product page. Move on to the next step by hitting the CONTINUE button.
Step 2: How Good Is Your Product – Give information regarding the product price and discount to be offered to buyers appropriately and other benefits such as free shipping if available. Click the CONTINUE button to proceed to the next step.
Step 3: What Is Needed? – Provide detailed information on how to get the deal. State if it is a promo code, rebate, printable and so on and so forth. Once you finish this, then you move to the final step by clicking the CONTINUE button.
Step 4: Review & Finish – This is the final step where you need to go through all you have been doing so far, cross check the veracity of the deal to be sure it is not a duplicate and then click Finish & Post once you are sure all is fine. As soon as you post, the system will carry out a quick check on your deal. The check will be done the very time you enter the code thereby giving feedback as to whether it is original or they already had that code before.
If your deal/code is accepted after all the steps above, you will have your deal live and you will be rewarded with Karma points.
What Is Karma Points?
---
It is a point system that allows you to earn Amazon gift cards and saves you money in your shopping once you reach certain levels.
These levels could be from the least level to the legend. You can earn Karma by looking for deals to post and ensuring they go live on Dealspotr website.
In all, earning Karma points depends seriously on your participation on platform and this requires you to be commenting on deals, liking deals posted by others, posting deals, following people and stores at least 10 and 20 respectively and so forth.
Who Is Dealspotr For
---
It is for anyone who wants to save money on their shopping. We all work hard for our money and it would be nice to save some on our shopping.
Dealspotr is great because saving money is all done through the app and there is no waiting for coupon codes in the mail.
In this platform, everyone helps out on finding the best deals and codes and that's what makes it unique and Legit.
Pros & Cons
---
Pros
It is completely free to join – no membership fee needed.
There is a wide range of products, deals, and coupons for you to explore.
Works like Facebook and as such give you personalizerd news feed.
Excellent and perfect search system.
You can share deals on other social network sites like Facebook, Twitter, etc.
They have deals that are working and regularly reviewed, edited, and updated.
Members are offered the opportunity to post deals for other to see.
There is another way to make money other than posting deals/coupon codes for bloggers which is through Dealspotr affiliate program.
The site is user-friendly.
Points are based on real-time activities.
Cons
I don't have any downside to share as far as I am concerned on this platform. You can share your own experience and feedback, it will help others as well.
My Overall Take
---
Dealspotr is 100% legit and a valid way for shoppers and couponers to save money as well as earn points which can be redeemed for gifts.
There is no harm in using this platform because it is Free with no hidden costs and it saves you money so you could purchase more items.
Personally, I really like Dealspotr because it does nothing but help you and you could also help others by giving them deals you find online or anywhere.
I suggest you give it a try and give me your feedback whether you like it or not, I would love to know what you think.
How You Could Make Money From Home
---
Are you interested in making money from home to help you pay for some extra expenses?
If you are, I would like to introduce you to a program I use that has helped me become successful with online marketing.
It is called Wealthy Affiliate!
Wealthy Affiliate is a platform that teaches you all the ins and outs of online marketing.
They teach you how to make money selling other people's products through video tutorials and live webinars, and they have the greatest community of people who will stop what they are doing to help our if you have a question.
If there is one thing I would say about this program, is you would not find another program like it!
Thank you so much for taking the time to read my Dealspotr Review, and I hope I was able to help you understand what it is all about.
If you have any questions or comments, please feel free to leave it below and I will get back to you in a timely manner.
Take care and have a great one 🙂
-Jaime
Rucksacked